"We have to make good use of this life during the time remaining to us, a brief shining instant, similar to when the sun pierces through the clouds." Kalou Rinpotché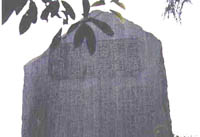 Mikao USUI's mystical enlightenment took place on Mount Kurama, near the famous historic city of Kyoto with its 1,500 temples.
Having meditated and fasted for  the established spiritual period of 21 days, Mikao USUI was struck on the last day by a shining energy of white light which opened his Third Eye and radiated throughout his Crown Chakra like an Ascending Fountain.
In September 2003, a female Japanese Master of Reiki named Mana accompanied one of her male students on a pilgrimage to Mikao USUI's memorial on Mount Kurama.  This is what the student relates: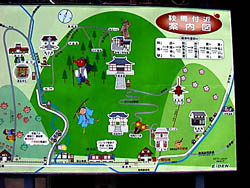 "In front of the main gate to the Temple, there stands a circle of stones of 7-8 metres diameter called 'The Circle of Kurama':  this is where Mikao USUI received Reiki, the Cosmic Energy."
This energy coming from the Cosmos runs in fact in our bodies from the Earth upwards.
During my visit, I received the message "Express your desire!", and the answer immediately came: "To live in peace".  I had the sensation that the veil of my Third Eye had become red the image of fire, to then transform into water.  Both transmission and transformation occurred in not even one minute, and, to my great awe, I received the visual perception of Ka Mi (NT: God in Japanese):  Ka (fire) is the spiritual energy, and Mi (water) the physical energy.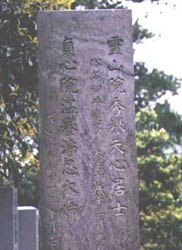 Once back at home, I meditated (Mei So) and another message was delivered to me: "Believe in your powers; things come all the time; you are a channel of energy.  Be inside yourself like burning fire and remain happy like a candle bringing light to darkness.  Always give to other living beings, give Reiki and let it penetrate naturally like flowing water."
I then knew that Reiki is an inner fire transmitted and shared like water.  The Third Eye Chakra is a veil that has to be opened as it was to me in a red vision."
This is what Mana's student experienced that 11th day of September, 2003.
Now, if you travel to Tokyo, the capital of Japan, take time to leave behind yourself the frenzy of the huge megalopolis, and visit Mikao USUI's grave and memorial.
•    Take the Marunouchi Subway Line til Shinkoenji Station:  ask where Saiho-ji (the temple of Saiho) or the kindergarten of Shotai Yochien are.  Mikao USUI's burial site is approximately a 7 minutes walk south of the subway station.  The address reads: "Tokyo Suginomi-ku, Umesato 1-4-56."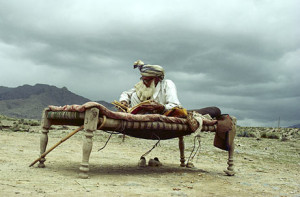 The temple of Saiho is a beautiful wooden structure (see photos), and Mikao USUI's memorial and tomb (photos 2 & 3) are quite discreet:  "Here lies Mikao USUI, the Father of Reiki, 9 March 1926".
Samasathi