"The heart is a secret garden where trees go to hide: it manifests under one hundred shapes, but it has only one." Jelaluddin RUMI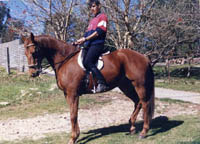 A little boy in white short pants, under the hot summer sun of Camargue, in the South of France: he is hardly six, and his face is full of light and tenderness, as a beautiful white horse nibbles titbits from his hand.
Samasathi's very first association with horses is a sweet memory, and this Noble Animal has such a powerful impact on his life. In the Chinese zodiac, Samasathi was born the year of the horse and this is no coincidence.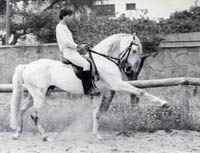 Those great experts and lovers of horses that the Bedouins are, say: "Allah blew in his right hand and he created the Horse with the wind of the desert-". Riding a horse can be so delicate, so powerful, so uplifting!
Equestrians is an art: no mediocrity can be tolerated, safe for love: what else to ask from a beginner than pure love for his/her mount?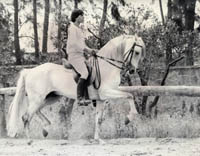 Samasathi loves riding outdoors, the horse and the human peacefully enjoying Nature, or the quest for perfection that dressage is, a holy communion between the animal and man, in mutual respect and love. Dressage is an art, nothing less, from breaking-in to academic airs, and it implies lightness, respect, joy and love between both actors.
Throughout his life, Samasathi has been privileged to enjoy wonderful bonds of love with quite a few remarkable horses, as his karma led him to live and ride in countries rich in horsemanship tradition: France, Australia and New Zealand indeed, but also Morocco, Afghanistan, India and Mongolia to quote only a few.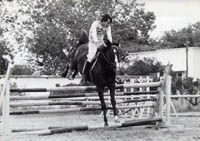 A qualified instructor from the world-acclaimed French Riding Academy "Cadre Noir" at Saumur, Samasathi trains horses and teaches riders from beginners up to grand prix (including piaffe and passage), always insisting on the fluidity of Energy, till the flows of both partners merge into Oneness.
Samasathi is always happy and willing to teach the Art of Riding with a holistic approach, in Byron Bay (Australia) or by giving clinics wherever "spiritual riders" are, in Europe, in the Asia-Pacific Region, or in the Americas.