"What the whole world nowadays is waiting for, this is the awe inspiring idea of the Spiritual Unity of the Universe, this idea that you and I are not only brethren, but that you and I are one."
Vivekananda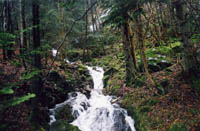 On the warm tropical night of Sunday May 26, 2002, in the village of Terre de Haut, on Les Saintes Island (F.W.I), Samasathi had the following positive dream:
"I am in Queensland, Australia, surrounded by lush green vegetation, near the sea. I receive a question from the Infinite: 'What are the keys to the Universe?' and I naturally reply: 'Universal Love. Universal Acceptance".
Love is the key to the Circle of Life, and there cannot be Unconditional Love without Acceptance. Throughout centuries and centuries of human quest for Truth, this has always been the very core of philosophies and religions.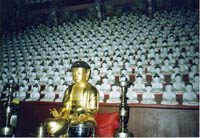 Samasathi suggests the reading and study of the following masterpieces to all Seekers of Truth; if you have works to recommend, please visit our "Members Forum" or our "Newsletter".
* * *
Reiki
(Mari) HALL  – Practical Reiki
Reiki for Common Ailments
Reiki for the Soul
Reiki: Using Healing Energy for Peace, Joy and Vitality
(Tanmaya) HONERVOGT
Reiki : Healing and Harmony through the Hands Inner Reiki: a Practical Guide for Healing and Meditation
(Franck Arjava) PETTER & (William Lee) RANDI
The Spirit of Reiki: the Complete Handbook of & (William Lee) RAND the Reiki System
(Bronwen & Frans) STEIN
Shiatsu
(Toru) NAMIKOSHI
The Complete Book of Shiatsu Therapy
Tarot
(Oswald) WIRTH
HADES
***
ARABI (Ibn)
The Wisdom of the Prophets
ATTIAR
AUROBINDO (Shri)
The Divine Life and other works
BESANT (Annie)
The Bible and the New Testament, the Book of Job
BLAVATSKI (H.P)
The Secret Doctrine
The Voice of Silence
CHADWIN (Bruce)
COELHO (Paulo)
The Alchimist
The Pilgrimage
CHOPRA (Deepak)
The 7 Spiritual Laws of Success
The Way of the Wizard
Dalaï Lama Kindness, Clarity and Insight
DANTE
ECCO (Umberto)
GIBRAN (Khalil)
GURJIEV
GUNARATANA (Henepola)
Mindfullness in Plain English
HALEVI ( Z'ev Ben Shimmon)
The Tree of Life
The Kabbalah
Hermès Trismégiste
HESSE (Hermann)
Narziss and Goldmund
Siddhârta
Hindouism, holy texts
Bhagavat Gita and Vedas
Mahabharata and Ramayana
KABIR
KHAYAM (Omar)
KRISHNAMURTI (J.)
At the Feet of the Master
Commentaries on Life
LAO TSEU
LOBSANG (Rampa)
The Third Eye
The Legend of Gilgamesh (Sumer)
LERMONTOV (Mikhael)
MUSASHI (Minamoto)
The Treaty of Five Wheels
NIETZSCHE
PLATON Ethics
QORAN, The
RICARD (Mathieu)
RINPOCHE (Sogyal)
The Tibetan Book of Life and Death
RUMI (Jallaluddin)
SAI BABA
VIVEKANANDA (Swami)
Practical Yogas (Karma, Bhakti, Raja)
WATTS (Alan)
YOGANANDA (Paramahansa)
Autobiography of a Yogi
Interpretation of the Bhagavat Gita
Interpretation of the Rubbayat