CD 1 – HEAL YOURSELF WITH REIKI
Duration: 63 minutes
Fourteen stages for self-healing with love, light, energy
Moving into the wonderful healing space of Reiki, you will give yourself a relaxing and rewarding full-body treatment.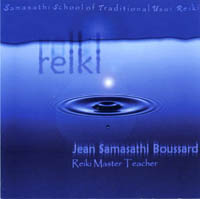 "Nothing is cut from nothing ……………. What you do not understand from your body, you will not understand anywhere else ……." Upanishads
This CD's beautiful soothing music and Samasathi's voice will produce a deep cleansing effect on your mind, body, emotions and spirit whilst supporting your own healing capacity.
Revitalize and harmonize the subtle energy centres in your body, sharpen your inner mind with internal clarity and transform your life for the better.
Find a comfortable place, give yourself time, and let Samasathi's voice guide you through this self-treatment session: hand positions are simple and the crystal sound of a Tibetan gong will signal when to move to the next position.
Listen to 14 Hands Positions For Self Healing:
  Hand Position One –

Hand Position Two –

Hand Position Three –

Hand Position Four –

Hand Position Five –

Hand Position Six –

Hand Position Seven –

Hand Position Eight –

Hand Position Nine –

Hand Position Ten –

Hand Position Eleven –

Hand Position Twelve –

Hand Position Thirteen –

Hand Position Fourteen –
This CD is of great help to all seekers on the Spiritual Path as well as to all engaged in a holistic discipline, and in particular Reiki practitioners and Masters, as Samasathi's words and accompanying music are carefully selected in order to elevate consciousness.